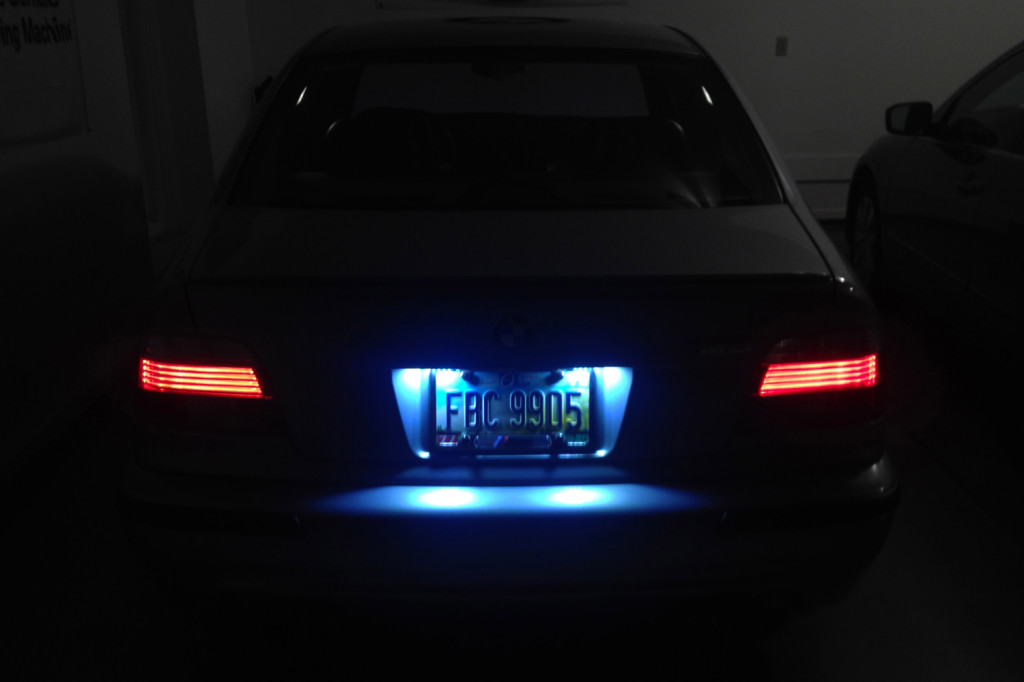 A really easy, and affordable way to modernize the rear of your BMW is to update your license plate lights.  Until recently, BMW has used very yellow, and very dim, lights to illuminate the rear plate.  Here in modern times, they're using significantly brighter LEDs that produce a very white colored light.  I installed these lights into my 2000 M5, and have been happy with the results.  They do NOT trip a check warning or light inside the car. These lights are very bright, but not ridiculous.  See the below photo for a comparison.  
Objective: Update rear look of your BMW with brighter, and whiter license plate lighting.
Applicable Vehicles: 1997-2003 BMW E39 5-series: 523i, 525i, 528i, 530i, 535i, 540i, M5.  1994-2001 BMW E38 7-series: 730i, 740i, 740iL, 750iL, E53 BMW X5, 1998-2006 BMW E46 3-series:  323i, 325i, 328i, 330i, M3.  2004-2010 BMW E60 5-series:  525i, 528i, 530i, 535i, 545i, 550i, M5.  More models may be supported by the product(s) featured in this post, such as the E90 3-series, E83 X3, etc.
Parts required: LED license plate light modules.  Search eBay for BMW ____ (model) LED license plate lights.  I can't put the actual link because listings end often.
*Any of the more popular products install and work the same way.
Tools Required: Flat-head screw driver.
Cost: ~$30
Difficulty: Easy
Time Required: 5 minutes
Procedure:
Turn off all vehicle lights, remove your key from your car's ignition, and unlock the entire car through the central locking button.  Open your trunk lid, and take a look at the existing lights.  Notice a small slot on the left side of each light, this is where the screw driver is inserted.  Put the flat head in, and slide the light to the right side.  Both the left and right license plate light should slide to the right.  Be careful applying force with your screwdriver around the car's paint, if it slips out, you could cause damage.  Also, note that your current lights have likely been in the same place for a very long time.  It may take some time and a few hits of the screwdriver to loosen them so they slide over.
Once they do slide to the right, pull them down, and out of the trunk lid.  Remove the existing wiring harness.  The new LED lights that you purchased have both the analog and digital connections.  Depending on what year and model your car is, you'll need one or the other.  Plug your new light in using the same cable for the car in the correct port on the light.  Push the light into the trunk lid firmly, and let it settle itself back to the left.
You're done!  Turn on your lights, and enjoy a much whiter, brighter, and more modern looking rear end to your BMW.
The following two tabs change content below.
2000 BMW E39 M5, Silverstone Metallic. 2002 BMW E46 330xi, Topaz Blue Metallic. BA Business Management, Kent State University. E39Source Owner.
Latest posts by Ryan Schultz (see all)