It's a guy thing.  In the garage or shop of a car enthusiast, you're likely to find dozens of car products.  Soaps, tire shines, glass cleaners, leather conditioners, assorted towels, brushes, sponges, et cetera.  We like to spend our weekends polishing our cars, even if they only go back in the garage directly afterwards.  For some reason, it's a therapeutic process, the cleaning of our cars.  But just like any process, there are dozens of ways to go about it.  And with automotive detailing, there are millions of ways to do it wrong. Waxing and polishing products are tools, and like any tool, they are only productively effective when used correctly.  Zaino products are my tools of choice.  They're not cheap, easy to use, or something you can do in-between commercials.  This article is designed to enlighten the correct way to complete the Zaino wax process on your vehicle, and then maintain all of your hard work.
I have used only Zaino products on my 2000 BMW E39 M5 for the past two years, and I never stop getting compliments of how my 175,000+ mileage Ohio-driven BMW looks and feels like a new car.  My vehicles paint currently feels smoother than the 2013 BMW M5 on my local dealer's showroom floor.  It reflects light beautiful, and is well protected from the elements.  If you want the same on your car, follow these steps, take your time, and me thorough.
The video at the end of this article sums up all of the following text, in video form.  The mentioned video was filmed in the Spring of 2013, my most recent full Zaino detail on my M5.  I will also include photos of my M5's paint at the end of this article.
List of Products Required for my Method
Zaino products can either be purchased online from ZainoStore.com, or in their store in Howell, New Jersey.  Use this link to quick order what you're looking for.
Z18 ClayBar… $16.95
Z2 PRO Show Car Polish for Clear Coated Car Finishes… $14.95
Z5 PRO Show Car Polish for Swirl Marks and Fine Scratches… $16.95
Z6 Gloss Enhancer… $9.95
Z7 Show Car Wash… $8.95
Z8 Grand Finale… $19.95
ZFX Flash Cure Accelerator Additive… $19.95
Price total as of 8/2013… $107.65 pre-tax/shipping.
Prelude
Before any drop of Zaino or sweat touches your car's paint, you should determine it's condition.  Should you find severe swirl scratching, rust, or other moderate-major paint imperfections, do not expect Zaino to remove them.  Zaino car polishes are designed to polish and cleanse your vehicle's clear coat, not buff it down to a fresh layer.  If swirls or other deeper marks are present, you should be looking into paint restoration.  This would involve wet-sanding down the clear coat.  A scratch is nothing but a chunk of clear coat that has been removed.  To make it go away, it must have the surrounding area buffed down to the same level.  This is what the wet sanding and buffing process would do.  If you have little to no swirl scratching, or don't care about still seeing them afterwards, proceed on.
Application I – Strip/Prepare surface
We must first remove all old products from your paint.  The multi-coat, multi-step Zaino products work best when applied from the naked clear coat up.  To strip off all of the old waxing or polishing products, we must wash the car with dish-washing detergent.  Dawn, Cascade, whatever you have next to the sink works.  Mix about a table-spoon's worth of that soap into a 2-gallon bucket of warm water, and wash your car.  Do a good job, get off all road dirt, cover the entire body thoroughly, you get the idea.  Rinse the car from any remaining soap, and don't bother drying it yet.  Note that we haven't actually touched any Zaino products yet.
Application II – Cleanse Surface of Contaminants – Z18 ClayBar, Z7 Show Car Wash
We will be using two Zaino products in this step:  Z18 ClayBar, and Z7 Show Car Wash. The ClayBar, when run over a well-lubricated surface, will pick up any contaminants.  Acid rain, dirt, dust, tar, so on.  It is important that you keep the area where you're working the clay over lubricated.  Work in 2'x2′ areas, applying very light pressure. Clay works with friction, not pressure.  For our lubrication liquid, 16oz of water with a cap full of Z7 Show Car Wash is what you want.  If you can, put this in a spray bottle, and shake it up.  This process takes time, but you'll be impressed with what your paint feels like after the clay has been run over it.  You're feeling your car's clear coat in its cleanest form, with virtually nothing on top of it.  Gradually work over the entire car, saving the potentially still dirty areas for last, rocker panels, rear bumper, etc.  You can use the clay on glass, plastics, and metals as well, such as door trim, headlights, tail lights, or exhaust tips.  *Important:  As you work, keep needing the ClayBar, stretching it out, and then folding it over on itself. This will ensure that you always have a clean area to work with.  Also, if at any point you drop your clay bar on any surface but your clean hand or the car's paint, throw it out.  That's right, throw it away.  If the clay touches your garage floor, or anything else, it will pick up dozens of little particles of cement, stone, dirt, contaminants.  Should you continue to use this piece of clay, you're grinding it into your car, and drilling millions of new valleys into your clear coat.  Move on, keep lubricating and finish the car.
Application III – Z7 Show Car Wash
With your car very smooth and clean, we now need to quickly re-wash the car using only Zaino Z7 Show Car Wash.  This doesn't need to be incredibly thorough, just hit every panel with your Z7 Show Car Wash soap and a clean sponge.  Dry the car off as well as possible now.  Doors, hood, trunk, gas gap, get it nice and dry.
Application IV –  Z5 PRO Show Car Polish for Swirl Marks and Fine Scratches
We will be applying Zaino Z5 PRO Show Car Polish for Swirl Marks and Fine Scratches using the included applicator pad with your Zaino order.  If you're planning on doing any further work after this process within the next 24-hours, you need Zaino ZFX Flash Cure Accelerator Additive.  This accelerates the curing time of the wax.  Mix 8 drops of the included additive into the 4oz container full of Z5.  Depending on the size of the vehicle you're waxing, you may only need that container 1/2 full, with 4 drops of the accelerator instead.  Shake the vile of wax/additive for a full 60 seconds, fairly violently. You are now ready to drop dime-nickle sized deposits on your applicator pad, and go to town on the paint.  Medium pressure should do.  This wax is the more aggressive of the two (Z5 and Z2) and may remove light clear coat and swirl scratches.  You don't need a lot of this product, a little goes a long way.  Spread evenly in circles over the entire car, and let dry. You'll know when it's dry when you can rub your finger over top of the wax, and it doesn't smear, just leaves behind a perfectly smooth and shinny finish under your finger. Depending on the ambient weather conditions, this could be anywhere from 20 minutes to over-night.  Once dry, remove the wax with a cotton towel.
Application V – Z6 Gloss Enhancer
With the first bit of wax dried and removed, use Zaino Z6 Gloss Enhancer spray wax over the entire car.  I like to spray a 2'x2′ area, rub in with a cotton towel until mostly dry, and then run over with a microfiber to ensure that it's completely dry.  Hit the entire car's painted surfaces, and any plastics or metals.
Application VI – Z2 PRO Show Car Polish for Clear Coated Car Finishes
Moving on to Zaino Z2 PRO Show Car Polish for Clear Coated Car Finishes.  This is more finite wax, in comparison to the Z5.  Picture it as a higher-grit sand paper, it will leave behind a more perfect finish.  Follow the same process as you did with the Z5, including the ZFX Accelerator Additive if you plan to do second coats of Z5 and/or Z2.  Let the Z2 dry, then remove with a cotton cloth.
Application VII – Z6 Gloss Enhancer
Hit the car with another coat of Z6 Gloss Enhancer.  These steps just promote a deeper shine.
Application VIII 
Use Zaino Z8 Grand Finale spray wax over the entire car, following the same application technique as the Z6 Gloss Enhancer.  After this, you'll have the absolute smoothest, shiniest, and protected surface you can ask for.
Future Maintenance
Now that you've invested the time (around 24 hours in my case) into make your paint as good as you can, it's important to keep it that way.
When ever you wash the car, only use Z7.  Zaino Z7 is formulated to only enhance the existing Zaino products, and add to them.
Don't wash the car unless it's dirty.  The common week's worth of road dust can be safely removed with Z6 Gloss Enhancer and a cotton towel.  Make sure that you're working in small, well-lubricated, areas, and work over the car that way.  It's a lot faster than washing and drying the entire car, and each time you do this, you're only adding to the wax layers and protection on the car.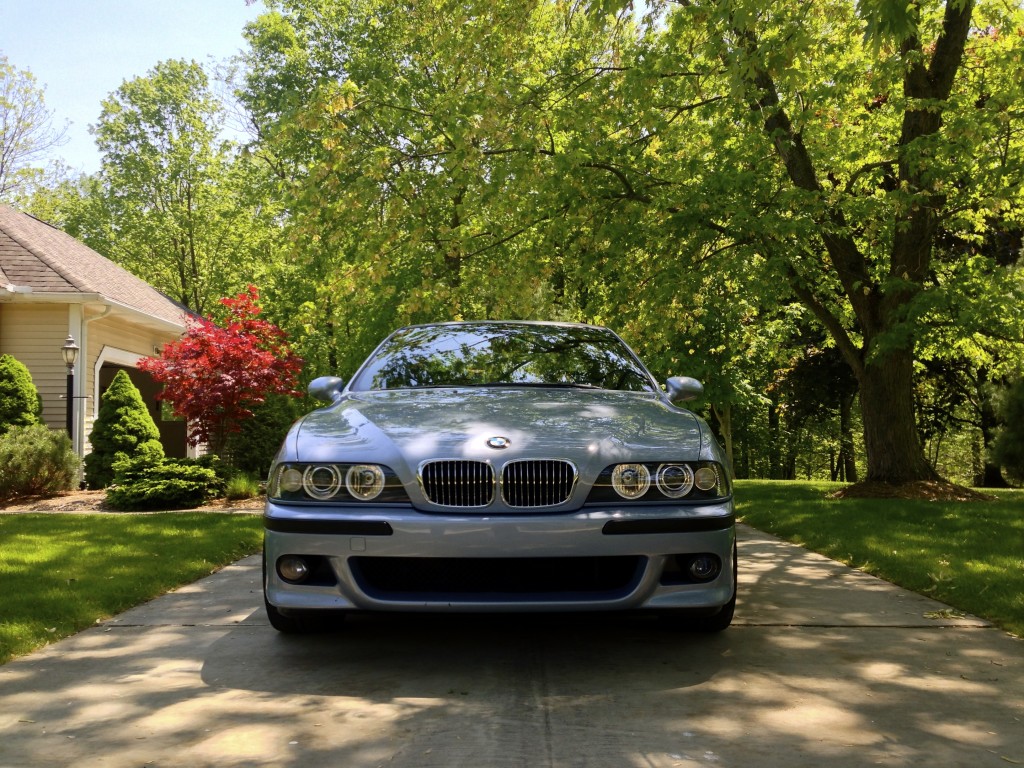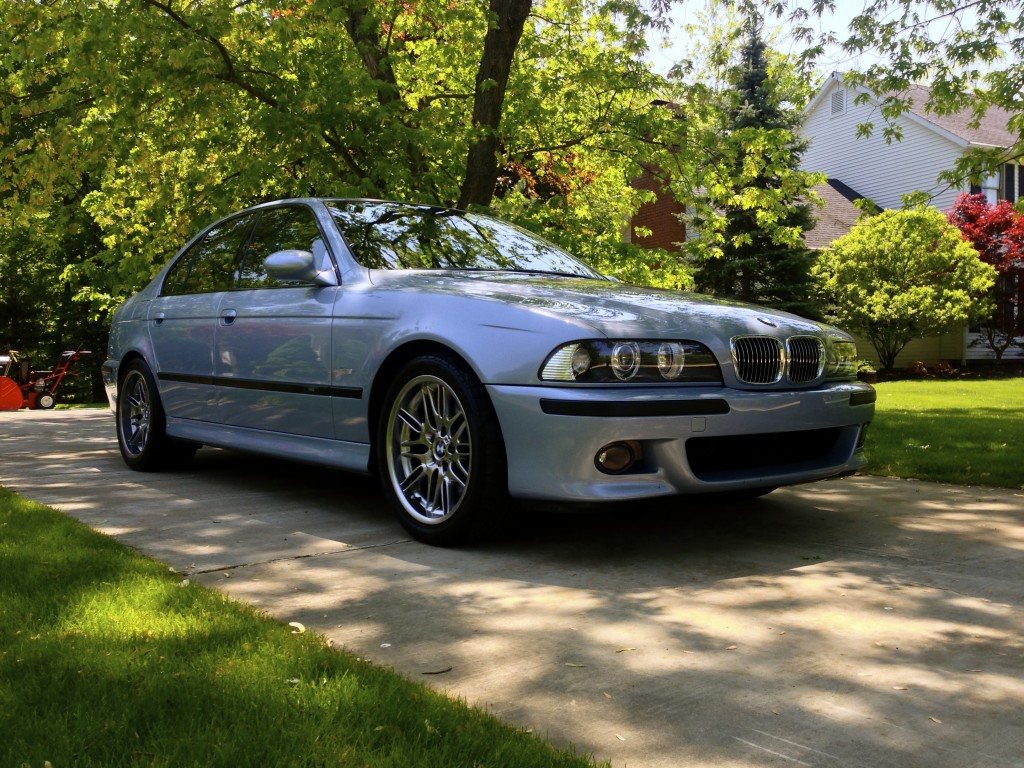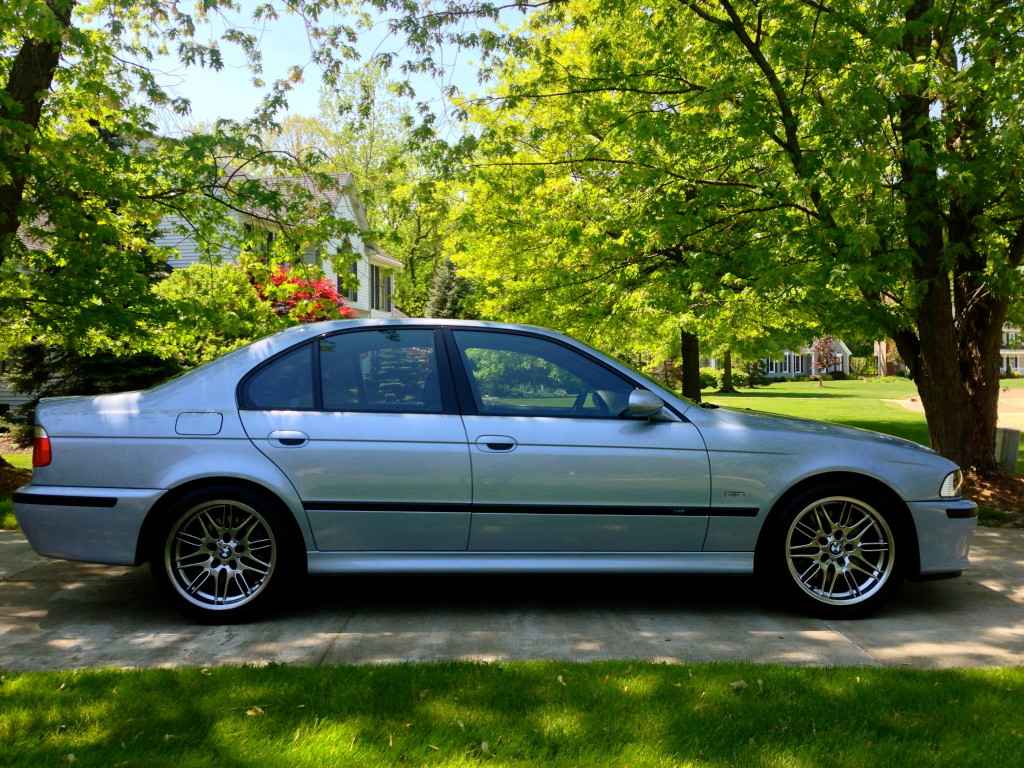 The following two tabs change content below.
2000 BMW E39 M5, Silverstone Metallic. 2002 BMW E46 330xi, Topaz Blue Metallic. BA Business Management, Kent State University. E39Source Owner.
Latest posts by Ryan Schultz (see all)