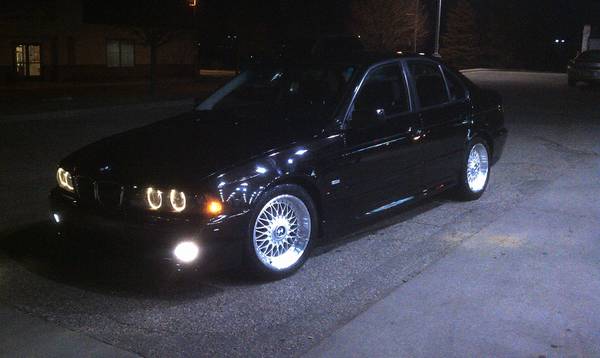 This is my 2001 BMW 530i 5 speed. I bought this car in June of this year from a guy in Minnesota. I found the car on Craigslist, and bought it for $6,500, which was a great deal. I originally wanted an M5, but they were out of my price range, so I started looking for a 540i. After some research, I found out that the V8s are a pain to repair, and the MPGs are awful, so I decided to go for a 530i. I was specifically looking for a 530i with a manual box, which was difficult to find in South Dakota. After searching for about 3 weeks, I found this one. It met all of my criteria: facelift model with the angel eyes, 5 speed box, M bumpers, BBS style wheels, it just had my name written all over it! After about a week, it was finally in my driveway: my first BMW!  Below are the pictures of it from the Craigslist ad.
I bought it with just 123,000 miles on it. The car is now close to 130,000. Since I bought it, I have replaced two tires, changed the oil (another change is due soon), change transmission fluid with Royal Purple, replaced the cup holders, had a dual tip muffler installed, upgraded my angel eye bulbs to LEDs, had an oil leak fixed (oil filter housing gasket) and I purchased an M5 spoiler for which I have yet to install. I do have some issues with the car that I will address as soon as I can. I need to replace the passenger side front thrust arm, my DSC light is on, the sunroof doesn't tilt anymore, I need a new radiator shroud, and the car has a few rust spots on it that I want to get repaired. It also has a dent in the hood from a fender bender. Aside from those issues, the car is superb. I've never had a car like it before. My previous car was a 1996 Nissan Maxima 5 speed, which I loved, and I miss that car a lot. But, this is in a whole different league. After owning this car, I don't think I can own anything else, unless l were to get a Nissan GTR R35 or Skyline GTR R33, those are my dream cars. I would like to upgrade eventually to an M5 just because I want a car with straight up raw power that the 530i just doesn't have. But, I love my 530i! I get so many complements it's crazy, everybody loves it!
In the future, I would like to lower it, put some 18 or 19 inch wheels on it, install my M5 spoiler (should be pretty soon), maybe install a  chip and upgrade software to get some extra oomph from it and get my windows tinted. That's all I can think of for now. But other than those things, I just want to make sure that this car is properly looked after, and is kept in good running order, because the price of not doing so is frightening!
Above is my other vehicle, a 1974 Chevy C10 long box 2WD "lowrider". I'm trying to acquire parts for an LS 5.3 Vortec swap for it right now.
The following two tabs change content below.
Latest posts by Ivor Carrington (see all)