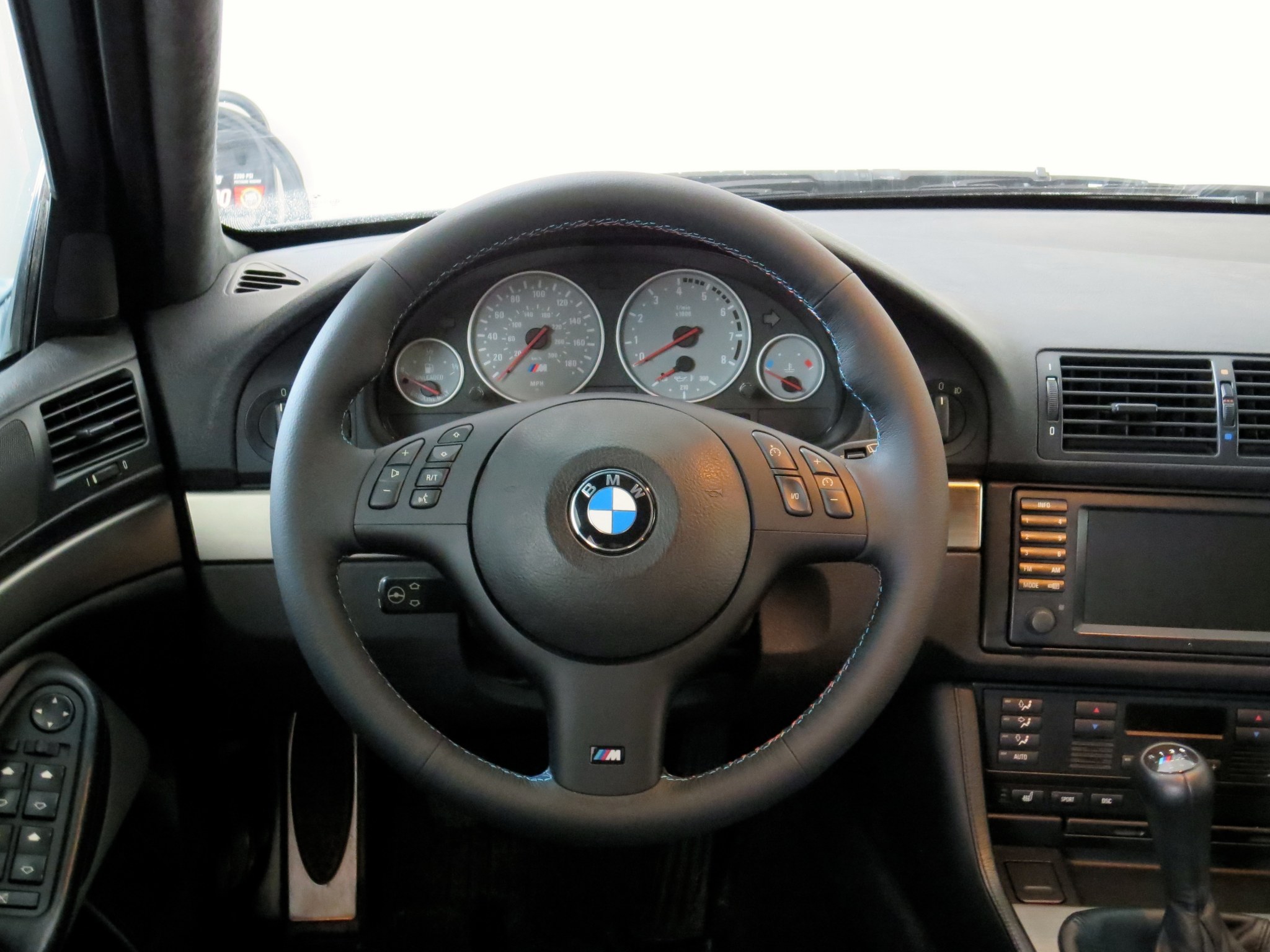 2001 was a big year for the E39 5-series, for BMW face-lifted the car.  The E39 chassis had been around for 5 years or so, and it was time to update it for the final 3 years of production.  On the M5, in particular, the updated steering wheel is one of the biggest updates.  It looks a lot more modern than the old wheel, and feels much more sporty due to it's thicker girth, and more pronounced side bolsters.  Depending on when your E39 was made, this update process can be super easy, or damn near impossible.  Let's get into it.
Preface: This install is really only possible if your car has a two-stage airbag.  BMW changed their technology for airbags around March or April production months of 1999.  If your car was made after then, like all USA E39 M5s, you're safe.  My particular car is a February, 2000.  So, I have a dual-stage airbag, which means that the updated 'round' airbag that the new wheel will use will plug right in and NOT turn on the airbag light on the dashboard.  If your car has a single-stage airbag, I would not recommend making the change.  It's VERY expensive to make a two-stage airbag work.
Objective: Install the facelift (production 09/00 and later) steering wheel in a pre-facelift E39 M5.
Applicable Vehicles:  BMW E39 M5 (2000-2003), Other E39, E46 and E38 models will be very similar, if not identical.
Parts Required:  **If you purchase the steering wheel by clicking the BMW part number below (links to ECSTuning) then you do NOT need the other parts that go ON this wheel, aside form the airbag.  You also won't likely need these parts if you buy one from Ebay or elsewhere… just be sure that you have the following parts included with the wheel itself:**
M3 / M5 updated wheel:  32342282020
2001-2006ish BMW airbag (not M specific, just round airbag):  32306757891
**Multi-function button panel:  61316949754
**M trim lower half:  32347833355
**Multi-function control wiring harness:  61318386947
**Airbag wiring harness:  32301097246
I purchased my new wheel brand new from ECSTuning for $638.  That wheel comes with the four parts above with ** next to them.  My airbag came from Ebay.  I spent hours searching ebay for the round-style BMW airbags, trying to find one in perfection condition. No tears, a clean badge, etc.  I finally found one, and paid $300 for it shipped.
Update:  When wind broke that thousands of Takata airbags were being recalled, the used airbag market took a big hit.  Airbags that were originally $250-$400 suddenly plummeted to $100-$200 dollars.  For the past two years, as of March 2017, BMW has been slowly increasing the number of vehicles included in the airbag recalls.  Note that only 2001+ BMWs have a hope of being recalled, and having their airbags replaced with brand new ones for free.  My 2000 M5, even though I retrofitted a very probably defective Takata airbag, is not covered by BMW's recall.  My 2002 330xi, however, eventually was included.  Good thing those cars use the same airbag.  I recommend checking the status of your vehicle's VIN here to see if there are any open recalls on it.  If not, you can try contacting BMW North America, but I have had no luck on that avenue.  If it is, contact your local BMW center, and schedule an appointment to have the airbag(s) checked and replaced.  See the video embedded below for more information.
Tools Required:
16mm deep well socket (or extension)
10mm socket with ratchet
Breaker bar
Extension for breaker bar / socket
Torque wrench
T30 torx bit in ratchet
Cost: ~$1,000
Difficulty: Easy
Time Required: 15 minutes
Procedure:  
Sit in your driver's seat, with your battery still connected, and start your car.  Turn your steering wheel about 90 degrees either way off center.  Using your T30 torx bit in a ratchet, slightly loosen the bolt that holds the airbag in.  This bolt is on the back side of the steering wheel / airbag.  *You may find it easier if you adjust your wheel so it is closest to the front seat (back)*
Now turn your wheel so it's 90 degrees off center the other way.  Loosen that bolt about half way.
Go back to the first position, and fully loosen the bolt (note that it stays in the wheel).
Go back to the second position, and fully loosen that bolt as well.
Straighten your wheel back to center, turn off your engine, and DISCONNECT YOUR BATTERY.  Use your 10mm socket to remove the negative battery cable, and secure it away from the battery terminal so it will not make contact inadvertently.  We disconnect the battery so that when we unplug the airbag, the airbag light does not come on the dashboard.
Pull the airbag out towards you, and remove the black and yellow connector from the inside of the steering wheel.  You can also unplug the white connector, this is for your multi-function controls.
Get your 16mm socket (deep well preferably, or use an extension to your breaker bar) and break the bolt free in the center of the steering wheel.  Remove this bolt, and pull off your old wheel.
Take your new wheel, and note the small indicator notch on the splines.  This lines up with another indicator on the steering column.  Make sure these are perfectly lined up so your car goes straight when you have your wheel turned straight!
Torque down the same 16mm bolt to 59ft/lbs.
Plug in your airbag cable (yellow and black on car side, going to green and black connectors for the actual airbag)
Take your new airbag, plug it in, line it up, and press it firmly into place inside of the new wheel.
Plug in your battery, and tighten down the 10mm bolt holding the cable on the battery post.
You're all set!  Start your car to make sure you don't have a light, and enjoy your new face-lifted E39 M5 or E46 M3 steering wheel!
The following two tabs change content below.
2000 BMW E39 M5, Silverstone Metallic. 2002 BMW E46 330xi, Topaz Blue Metallic. BA Business Management, Kent State University. E39Source Owner.
Latest posts by Ryan Schultz (see all)