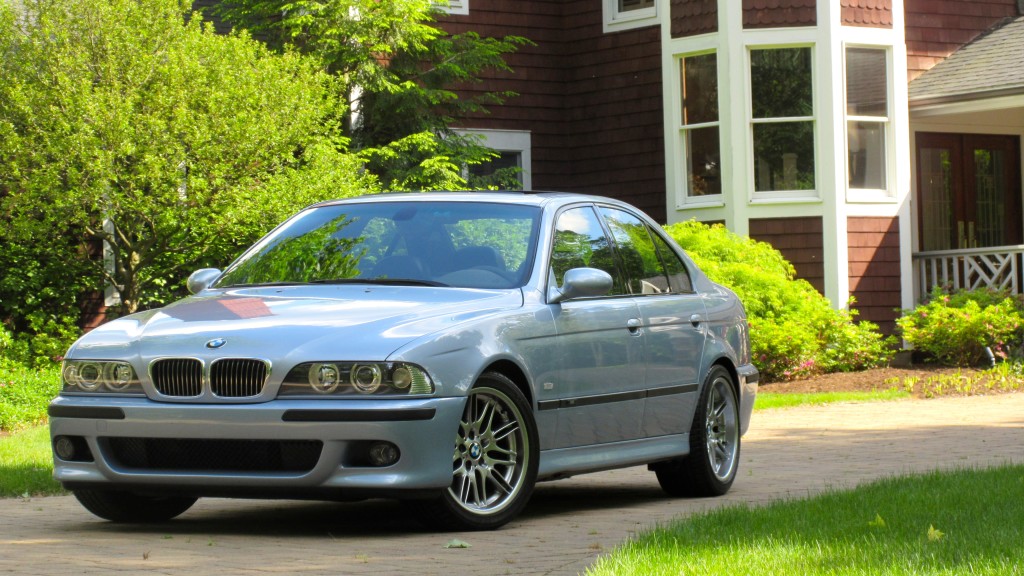 All cars have a story, and I'm about to get very carried away telling mine.  It'll be long, it'll be detailed, and it'll be full of links to YouTube videos better-articulating what I have done with this car.  Enjoy.
Everybody loves warm summer's nights.  But like anything, some are better than others. Some end up with arrests and over-night stays in the pokey, some yield the single best discovery and purchase that I have ever made.
Sunday, July 18th, 2010.  6:42:08 post meridian.  The corner of Village Way and Library Street, in Hudson, Ohio.  I was in the downtown area of my city with my grandparents, at a concert on our community green.  During intermission, we always take a little stroll, and often get ice cream.  This stroll happened to be a tad more expensive, but much more fun than the usual.
My M5 was poorly backed in to a spot, showing it's age with the pre-facelifted E39 headlights, a gaudy front license plate, and more than a handful of stone chips in the hood and front bumper.  There was an orange For Sale sign on the inside of the windshield, displaying the car's year, make, model, and the owner's phone number.  I snapped a few photos with my iPhone, hence the exact date and time.  I showed my grandparents the car; they seemed ever-so-slightly less enthusiastic than I was.
I should mention that I've always been a car enthusiast.  Not only a car enthusiast, but a 'fine car' enthusiast, thanks to my dad.  When I was a wee lad, he had a 1991 Porsche 964 Turbo.  From 2003-2006, he drove a BMW 530i Sport with all of the bells and whistles, and even better: a manual transmission.  In 2004, he purchased a 1998 Ferrari 355 F1 Spider from Florida, and had it delivered to our home in Ohio in April.  Being around a car-nut, I guess it rubbed off.  Luckily for me, he had good taste.
It was probably a mixture of the Internet and Top Gear that informed me what an M5 is.  I knew it was a sport version of BMW's 5-series model.  I knew it had power, technology, and a larger-than-anticipated price tag.  My best friend and I used to bike around our town all summer, totaling some 2,000 miles per season.  I can remember seeing a jet-black post-facelifted E39 M5 downtown, turning around, and pedaling back to look at it.  I appreciated what it was, but never thought I'd own one.  Looking back in my iPhoto archives from 2009-2010, I have several pictures of my car poorly-parked around town.  I always saw it, knew it was an M5, and snapped its photograph.  Little did I know it would be mine one day.  The photos of my car, when owned by the previous owner, are posted at the end of this article.
Anyhow.  Later that night, I found myself on my bike at the local watering hole, Yours Truly restaurant.  I gave my dad a call and told him of my find.  We didn't have any immediate plans to buy my first car, but I always have been one to push the buck early, just ask my dad.  I told him what it was, and that I really liked it, and he essentially scoffed at a 16-year-old thinking about a BMW M5.  That night, I remember staying up for many extra hours doing research on the car.  YouTube videos, reviews from when it was new, and research about it's reliability and maintenance.  I fell in love with nearly everything that I found.  The next day was a Monday, so I called the number on the for sale sign.  It was hard to tell if the last digit was a 1 or 6, as the sign was very low behind the windshield.  I tried my luck with a 1, and reached a mental hospital.  The 6 got me to the middle-aged second owner of the car, Dave.  I told Dave that I had seen the car downtown, and that I really liked what I saw. I asked how many miles the car had on it, and how much he wanted for it.  I found that the car had 147,347 miles on it and that the price seemed reasonable.  Like any first interest phone call, I told him that I'd "think about it," and "call him back later."  I got my grandfather and dad to agree to go over and look at the car, drive it, and see if it would be a good fit.  Dave turned out to live about 1.5 miles closer to town than I did, so the trip was short.  His 5-bay garage housed the M5, a Z3M, a C5 Corvette, his new 2010 E60 M5, and some little red project car (MG?)  We spent our first 15 minutes talking with Dave about the car, and looking over it's condition.  We found that the car had been meticulously cared for, but driven as his daily driver for the past 7 years he had owned it. We found the usual signs of use, stone chips on the front, slightly-foggy headlights, and the typical pre-facelift trim wear on the interior center console, shift knob, and parking-brake handle.  We decided that we should take the car on a short drive, so we left our 2004 Honda Pilot EX, and piled into the M5; Dave didn't come along.  We just took a short drive down his street, to highway 480, and then back into town.  My dad drove, since I didn't even have my temporary license yet.  90MPH felt as stable as can be.  I remember my first ride in the M5's passenger seat, it felt smaller than I expected, but very well built and comfortable. The array of buttons for the radio and climate-control looked impressive, and the car felt very heavy and powerful, even from the shotgun position.  My dad backed the car into Dave's driveway, and begun the negotiation process.  $900 off the original price later, and I saw a handshake.  That was a feeling that I may never again experience.
We agreed to meet at our bank in town the following Tuesday to exchange a cashier's check for a set of keys, extra front style 65 M5 wheels, and a folder of maintenance records about 1/8th of today's lexicon.  8:00AM was our time, which is the middle of the night for a teenager on summer break.  I told my best friend, Kennan, of the news.  He was nearly as excited as I was to come with us to pick it up!  After the finances were taken care of, we walked out to the car to bring it home.  I remember electing to ride in the back seat, and let Kennan take the passenger seat.  My ride home was very comfortable, the car felt so tight and solid in comparison to anything I had ever ridden in before.
Once the car was at home, Kennan and I set to giving it a good wash.  We removed the license plate, and found tons of grime.  This was not acceptable.  The rest of the car wasn't at all filthy, but being as anal as I am, it had to be cleaned by me.  Washing the beast gave me the opportunity to look over the entire car, and learn more about it.  I remember how Kennan and I couldn't figure out how to open the fuel filler door to dry the water out from behind it.  On any other car I had washed, there was a button to release the door from inside the car.  This was not the case.  We later found out that with the doors unlocked, all you have to do is push the door in.  A few hours later, the car met my stringent cleaning standards.  My dad got in and tried to start it to move it back over to the far side of the garage.  Click, click, click click.  Shit.  Day 1, battery is dead.  We didn't even have the radio on for very long while we washed the car.  My dad jumped it from the Honda, and put a charger on it for the night.  We decided a few days later just to replace the battery, and get a fresh start with that part of the car under our ownership.  $220.00 from Dave Walter BMW.  Problem solved.
Now that I had a car, I had motivation to get my license, and to learn how to drive a manual transmission.  I knew that I wanted a 3-pedal car, due to the more enhanced and connected driving experience.  Now I had to learn to drive one.  Over the next several months, I drove the car sparingly with my parents, just to become more comfortable with it. I got some BMW valve-stem caps, license plate frames, and cabin air filters.  Just basic maintenance and some sprucing-up in the beginning.  Dave had my tested for Ohio's 'Emission-check' a few days before handing over they keys.  Good for him, that meant he had reset the Service Engine Soon light, so they didn't question it.  I noticed that it had come on when I had it, so I had Auto Zone pull the code(s.)  Their piece-of-crap OBDII scanner pulled some random PY codes that they didn't really know anything about, so I let it go.
In all of my feverish research on the car, I noticed that mine looked different.  The sticker on the inside of the driver's door said mine was 02/00 production model, dating it as pre-facelift.  My headlights, tail lights, and interior trim was slightly different.  Slightly… not as nice.  My first bad decision was with the headlights, I bought the infamous cheapo-Depo lights from Ebay, for about $400 plus $200 of wiring from Dave Walter BMW in Akron, Ohio.  They looked vastly better, but were nothing compared to the real OEM Hella facelift lights.  I now had halos, but with 5 very-noticible LEDs in each ring.  Regardless, it was an improvement.  The front plate came off, it got some nice wax, and my driving with 3 pedals was coming along very smoothly.
If I continue to detail every thing I change on this car, I'll constantly be writing.  The post will never end.  So, let us fast-forward.
From my October, 2010 Depo light install to December, 2011, I starting driving the car much more frequently, and began making it as perfect as I can.  I did little things, like the shift knob, parking brake handle, center console trim, cup-holders, and I replaced a rear park distance control sensor.  Mechanically, I replaced the front brake rotors and pads, fixed a squeaky window, and had my parking brake shoes and pads replaced.  I also replaced the front bumper, fog lights, grills, and had the hood and bumper repainted. Let's just say the stone chips got the better of me.  In December of 2011, I bought a Peake R5/FCX-3 engine code reader.  This kept me busy, and poor, for a long while.  I found that 11 codes had been reported to the computer.  I let Dave Walter BMW do some diagnosing, and then I spent a month with the car in and out of service getting work done.  Thermostat, water pump, spark plugs, O2 sensors and several different sensors were all replaced. This removed all but 1 code, code AA.  Secondary Air.  This is the one that you don't want, I'll have a whole post about this later.  I let BMW try some solution through the engine to remove the carbon build-up in the system, and it still didn't totally fix the problem.  According to my full service history on the car, the engine had been pulled in 2008, and the carbon channels had been drilled out.  Thanks to our ultra high-quality US fuels (and yes, the car has only had 93 for it's entire life), they create so much carbon.
February, 2012: Fa t n  eat b lts.  My cluster's pixels were committing suicide by the day. Turns out, somebody saw one of my videos showing the problem on YouTube.  He sent me a message, telling me how to get BMW of North America to help fix the problem for less than the cost of a whole new cluster.  This guy had a 2003 525iA do the same thing. He is now partly responsible for this website, and one of my closest friends.  Thank you, Bobby O'Hearn.  I now have a face-lift working cluster.
April, 2012:  Suspension work.  Four new struts, new springs, sway-bar links, and Michelin Pilot Sport A/S 2s all around.
May, 2012:  Windshield.  Following a truck on Ohio route 8 gave me a nice chip in my windshield.  Along with thousands of other tiny chips, I had a new OEM glass and seal installed.
June, 2012:  Face-lift tail lights.  From Turner Motorsport, I was able to find a Hella retro-fit kit to give my car the Celis-LED modern look from the rear.  Wiring some ballasts made my car look just like a 2003, with OEM quality parts.
July, 2012: Shine.  I did the full Zaino-wax system on the paint.  Clay bar, the whole bit.
November, 2012:  Real headlights.  I got the OEM european Hella headlights installed and wired, with pure white LED angel eyes.  Looks infinitely better than the Depos.
December, 2012:  Body work.  I noticed over the summer in some detailing work that I had a very small bubble in the paint in the crest of my driver's side fender.  I hoped I could get away with ignoring, this would not be the case.  I took the car in to a local body shop on the 3rd, and let him clean out the cancerous area, and repaint it.  Good as new, and protected for another miserable Ohio winter.  In addition to this, I had a small bubble in the passenger-side corner of my trunk lid repaired.  Perfect.
February, 2013:  Navigation.  In the 2001 model year, BMW upgraded the E39's navigation display to a 16:9 widescreen instrument.  The computer also got upgraded, from the MKII to MKIII, which was much faster, and allowed for more capable software.  I took this a step further, and bought a MKIV computer in addition to 16:9 display.  Big upgrade for this car, DVD readability and all!
March-December, 2013.  Improving.  I spent much of 2013 fixing the larger issues.  They weren't even large, but they bothered me.  I replaced intake camshaft sensors, installed new floor matts and white fog bulbs, changed transmission and differential oils, replaced control arms and tie rods, added LED license plate lights, had some more minor rust marks removed, changed shifter bushings, added a UUC Evo 3 short shift kit, replaced the FSU and blower motor and replaced my mass air flow sensors.  I stopped this block at December because 2014 is a very different year for this car.
2014.  This year will be known as the time that real craziness started.  I have decided to make this car as nice as I can afford to.  That means every screw, every clip, every bracket, every everything has to be present, and in good working condition.  They also need to look good.  This started the next year's worth of work.  I ordered over 400 new parts for this car in this year.  It got new OEM style 65 wheels, new tires, chassis braces, instrument cluster bezel, switches, knobs, fan clutch, engine fan, door sills, M-audio subs, front bumper, trim, fog lights, rear bumper, trim, diffuser, facelift steering wheel, a total over-haul in electronics (see below photos), all exterior door trim, coolant expansion tank, new filters, parking brake rebuild, rear brake overhaul, M3 oil cap, oil return hoses, and all mounting and installation hardware associated with these things.  That huge list represents less than 1/4 of the parts replaced.  I want this car to look amazing, it deserves to.  It was an 8/10 to begin with, but by selling all of the old parts still worth using, I can afford a 9.5/10.  I also installed the Shark Injector software to remove the AA code, and make the car a bit more fun.
Current.  Late 2014.  This M5 looks pretty fresh now.  I can't name anything on the car that doesn't work right, or any parts that are missing or broken.  The very few that still show some age will be taken care of 2015.
Stay tuned to this post, it will change.  Parts will be replaced, components will be upgraded.  Thanks so much for reading my car's story, I hope you have enjoyed the ride 1/10th as much as I have.  Leave me some feedback, or your unique vehicle's history!
Some extra information about my in-particular M5.
2000 BMW E39 M5  WBSDE9349YBZ95540

Production:  Thursday, February 3rd, 2000

Color:  Silverstone Metallic

Interior:  Sport:  Silverstone Extended with Titan-Line                                    Trim, Alcantara Headliner

Factory Options:  Split-fold Lockable Rear Seat with Ski Bag

Rear Park Distance Control

Total Suggested Retail Price:  $72,895
I will include some photos of my car, and the first E39 M5 that I recognized here.  Each will have a description with the date.
July 18th, 2009  Noticed an M5 badge.  Took a photo.
I had no idea that exactly 365 days later, I would spot this exact car for sale.  And buy it.
Notice our bikes in the second photo.  The green/silver bike was my primary mode of transportation, the subject of these photos would become my new one a year later.
August 18th, 2009  A month later, I found her again!
September 17th, 2009  Another month later.
He seemed to like this spot in the summer evenings.  Perhaps a frequenter to The Vue restaurant?
 July 18th, 2010.  Found downtown for sale.
Clearly a 2000 with the old head and tail lights.  Fugly front plate, and poorly parked.
The following two tabs change content below.
2000 BMW E39 M5, Silverstone Metallic. 2002 BMW E46 330xi, Topaz Blue Metallic. BA Business Management, Kent State University. E39Source Owner.
Latest posts by Ryan Schultz (see all)