Hello from Melbourne, Australia! My names Josh, i'm an automotive photographer and a mechanic. I like a plethora of cars but BMW has always been my number one. Thought I would give you all a bit of a background into my obsession with the BMW brand and an introduction to my E39. This post may get a bit long though, its a trip down memory lane for me right now 😛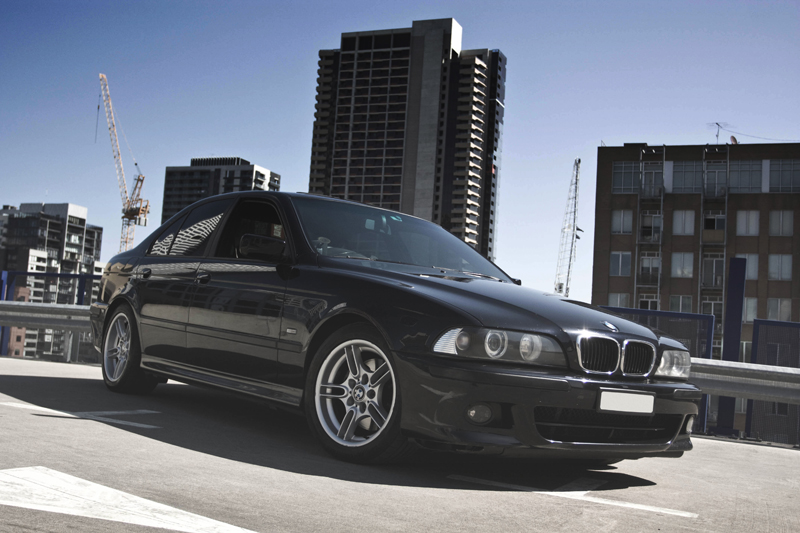 I've been a car person my entire life and the main reason for that is that my father is also an avid car enthusiast. My earliest automotive related childhood memory is sitting in the backseat of my dads old '77 E12 528i. It was green with a light beige velour interior and it had woodgrain trim. That car is long gone now, but the BMW brand would forever be an integral part of my being.
Fast forward to my final few years of high school; my then best friend had just bought his first car, an '89 E34 525i 5 speed. It was a clean alpine white M20 powered 'beast'. His dad at the same time owned a diamondschwarz E32 750iL. Not being old enough to drive/get a learners permit and not having enough money to buy a car, I absolutely adored those cars and vowed to get myself my very own BMW. Around the same time my dad bought an old '89 SV21 Camry wagon that he and I fixed up and that eventually became my first car.
University days. The Camry had gone and I was behind the wheel of another car my dad had bought. A '99 camry. This time a V6. 2 years passed and I bought myself an E34 535iS. Black on the outside, grey leather recaros, LSD, m-tech kit and it was a 5 speed. What a car!
I always loved that car and the way it drove but I sold it to make way for my current project car; an R31 Skyline sedan.  With the E34 gone, the skyline restoration well underway and my sister edging nearer to getting her license and therefore taking over ownership of the camry I found myself looking again at E34's again but by this point nothing on the market at the time fit my standards. Granted, 535iS' are very hard to find here as well. I turned my sights to the E39 and they were well within budget. I had to have one.
I went interstate to Adelaide for a friends wedding where I stopped by the local BMW dealership and bought myself this keyring. This was my way of making sure I ended up getting myself another 5 series.
I posted up a photo on my facebook with the caption "got a little something for the upcoming E39" and within 5 minutes a friend of mine who ran a BMW specialist workshop messaged me saying his friend had an E39 for sale that I might be interested in. Pictures were sent my way as well as the owners contact details and a viewing of the car was arranged. Suffice to say it was love at first sight and I bought it on the spot.
My car left BMW's Dingolfging factory on 07/06/2001. It's an Individual model with carbonschwarz exterior paint, anthracite headlining, anthracite nappa leather clad seating, sports front seats, birch anthracite woodgrain trim, shadowline exterior trim, MKIV navigation system (updated with the V32 software with ///M logo available from this very site) as well as the M-Sport goodies including body kit, suspension, shorter final drive and staggered size 17×8 + 17×9 Style 66 wheels.
Truth be told I wasn't overly concerned about the fact it was an M-sport or the fact it was an Individual. No. It was the work that the previous owner had done to the car that really sold it for me.
Australian delivered E39's (apart from the M5) were all steptronic. My one has had a full 5 speed conversion. All parts were sourced from the UK and the USA and all are OEM. As a result the car is essentially a factory manual car. Under the bonnet, bolted to the side of the M54B30 is an ESS Tuning TS2 twin screw supercharger with the TS2+ 8.5psi upgrade pulley. The intercooler for it is tucked away neatly behind the front bar.
I've owned the car now for a year and have been slowly addressing it's issues. Not long after purchase the inlet camshaft position sensor died. That was promptly replaced and there were no more issues until about 2 months ago where simultaneously my external temperature sensor, FSU and ABS module decided they didn't like living anymore. All have been replaced and it's been nothing but happy days. Apart from that, i've added the update steering wheel, E46 ZHP shift knob, white angel eyes and DICE iPod Integration.
On my to-do list however:
New front bar + undertray/bellypan
New wheels (either E39 M5 or M-Parallels)
Front left guard needs to be stripped back and repainted
BMW Individual door sills
New fuel pump
Gearbox fluid
Bilstein suspension
LSD
New cupholders
Dyno run
I love this car so much I decided I needed another 5 series, but not necesarily an E39. My dad drove my car and commented that it reminded him a lot of his E12. So together we added another BMW to the family; an '83 E28 528i. Very similar to his old E12 and M30 power reminds me of my long-gone E34.
Thanks for reading; hope you didn't mind the long read!
The following two tabs change content below.
Latest posts by Josh Mamet (see all)