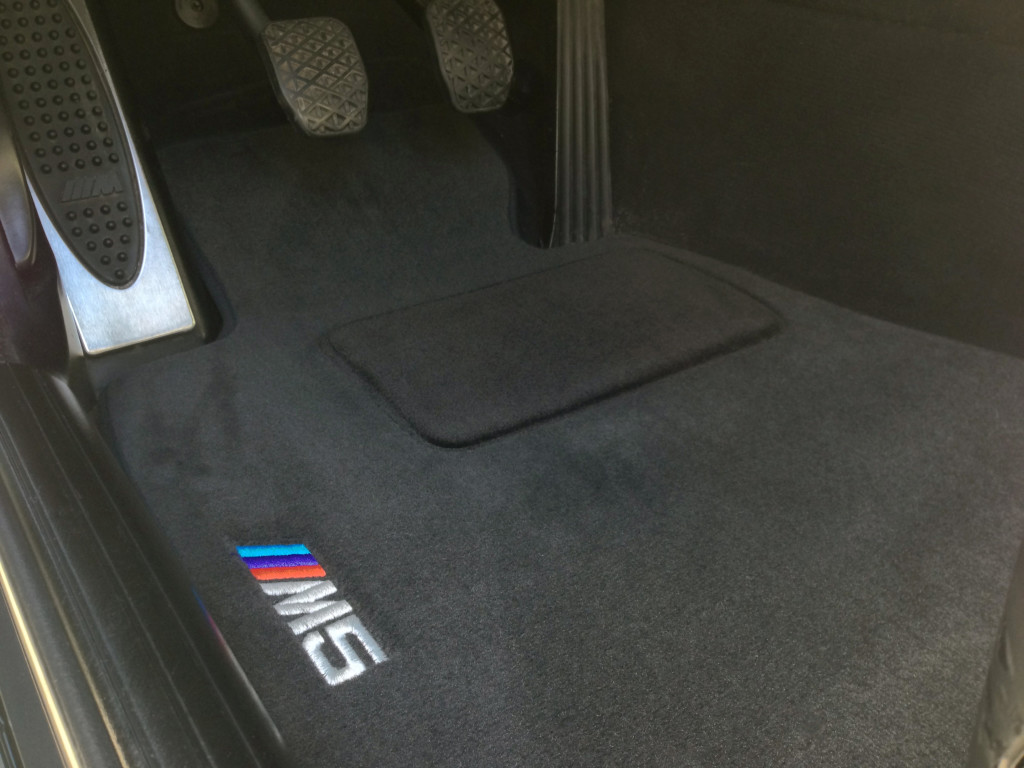 Really, Ryan?  A post about floor mats?  Damn straight.
When I first acquired my M5 in July, 2010, I immediately noticed the deficit of good content about the car on the Internet.  Less than a year later, E39Source was started to pay this debt to the Internet and all those who search for it.  This is yet another post to turn red to black in the BMW community.
Many of us M5 owners, unfortunately, live in more 'diverse' climates.  Diverse is a word for die hards who are trapped in cold regions and can't get out.  What they really mean is, 'pathetic' or 'derelict', perhaps.  Anyhow, living where there are four seasons, we need options.  Keep your carpet mats in, and by the first spring, they're white with salt, and effectively destroyed.  Keep your rubber winter mats in, and your car still feels like a Kia rental or a bathtub come winter's end.
My goal here is just to provide part numbers of OEM, genuine BMW parts for this job. Going to eBay will display many non-OEM, lower quality parts with may, or may not, fit your vehicle well.  Note that OEM BMW mats fit the floor in each seat perfectly.  They are made of high-quality material, come with the attachment clips to keep them stationary on your vehicle's floor, and have the correct color options to fit your vehicles interior.
Winter
OEM BMW Part Number:  82550302997
BMW's all-weather mats are right for the job.  Mine came from EagleDay, and cost me about $100 for all four.  Just want the front two?  Subtract $33.  Eagleday offers black, beige, and grey for the E39.  The winter mats come with four hooks, two for each front seat.  These hooks screw into the floor where the velcro parts where before, and keep your mats from sliding all over the floor.  After three winters, my mats still look very good. They have a rim around the edge to keep water/slush from spilling out onto the carpet, and the channels in the durable rubber keep any water from pooling up.  I can't imagine a better design for winter mats.
Summer
OEM BMW Part Number:  82110009046
For some reason, only about 1/2 of the M5's that I see actually have OEM BMW floor mats in them.  Maybe because they're more expensive, they're replaced with OEM parts when the originals wear out.  But, as I say, you get what you pay for.  EagleDay offers the carpet M5 mats as well, in black (anthracite in M5), green, and caramel.  I actually purchased mine from a BMW dealer on eBay, however.  They came with all eight velcro floor clips as well.  The OEM product is worth the $120 or so price.  The carpet and binding is very high quality, the M5 logos are embroidered very well, and the backing is a high-quality felt with the velcro pads in the bottom corners.  They fit the car incredibly well, and add that sporty touch of detail.
April, 2013.  After an incredibly long and miserable winter, I finally ditched my rubber mats for some new carpet ones.  For 2012, my winter ones were only in place for 2 months or so, this year, they lived in my car for 6 months.  It's a very welcome change to have soft, plush carpeting back!
Sorry for getting carried away with this article, I tend to do that.  I just wanted to cover the bases here, and leave little room for confusion or buying cheap parts.  Thanks for reading!
The following two tabs change content below.
2000 BMW E39 M5, Silverstone Metallic. 2002 BMW E46 330xi, Topaz Blue Metallic. BA Business Management, Kent State University. E39Source Owner.
Latest posts by Ryan Schultz (see all)