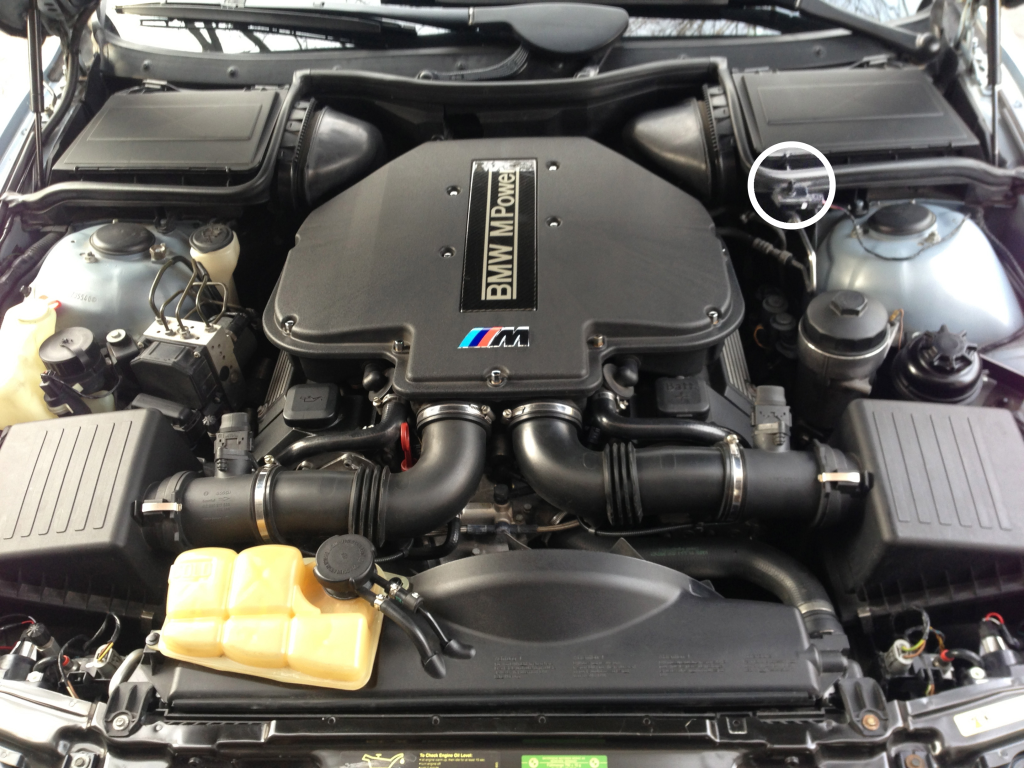 The car sits alone, all is quiet, nobody is around.  It's safe, locked, and being patient for it's owner to return to the garage.  But before you do, the car freaks out.  The lights are flashing, the siren is wailing, and you're just thinking to yourself:  "WTF."
At least, this is what happened to me.  It did it once, I couldn't figure it out.  Unlocking and then re-locking the car with the key worked, and it didn't do it again for a few weeks. Then it did it a few times during one night- in the middle of the night.
There are many things that can cause this, but one is easy, cheap, and quite often the culprit.  It's your hood sensor switch.  This switch is depressed when you shut the hood, telling the car that it's all buttoned up.  Maybe the contacts become brittle in these things, who knows, but they can fail.
Depending on which BMW you have, you may have a red light on your rear-view mirror. When you lock your car, this light should flash, every ten seconds maybe.  Should the car think there is a fault in the alarm system (hood sensor fail) the light will flash rapidly, maybe two times per second.  This may be a good test to see if your hood sensor is bad or not.
Objective:  Replace hood sensor switch to stop alarm from randomly sounding.
Applicable Vehicles: 
1996-2002 BMW E36 Z3-series:  Z325i, Z330i, Z3M.
1999-2006 BMW E46 3-series: 323i, 325i, 328i, 330i, M3.
2004-2010 BMW E83 X3-series:  X325i, X330i, X335i.
2007-2012 BMW E9x 3-series:  325i, 328i, 330i, 335i, M3.
1997-2003 BMW E39 5-series: 523i, 525i, 528i, 530i, 535i, 540i, M5.
2000-2006 BMW E53 X5-series:  X530i, X540i.
2004-2010 BMW E60 5-series:  525i, 528i, 530i, 535i, 545i, 550i, M5.
2003-2010 BMW E63/4 6-series:  640i, 650i, M6.
1994-2001 BMW E38 7-series: 740i, 740iL, 750iL.
2001-2008 BMW E65 7-series:  745i, 745Li, 750i, 750Li, 760Li.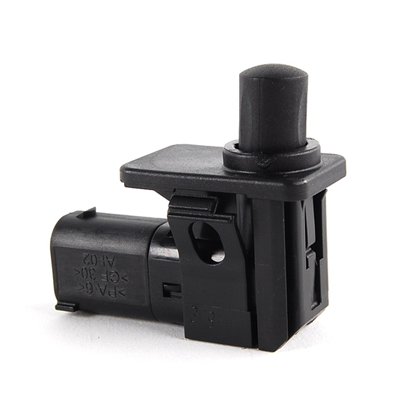 Parts required:  Hood Sensor Switch, BMW Part Number: 61319119057
Cost:  $14
Difficulty:  Extremely Low
Time Required:  Two minutes.
Procedure:  The hood switch is located up close to the firewall under the hood.  On an E39 5 series, it's on the cabin air filter box housing on the driver's side (top photo in this article of E39 M5, white circle outlines sensor.)  Once you've located the switch, depress a tab on the connector that plugs into it, and unplug it.  Now squeeze the sides of the sensor, and rotate it free from the air filter housing.  Replace with the new part, and plug in.  You're done.
Watch this video below from E39Source's YouTube to see the DIY!
The following two tabs change content below.
2000 BMW E39 M5, Silverstone Metallic. 2002 BMW E46 330xi, Topaz Blue Metallic. BA Business Management, Kent State University. E39Source Owner.
Latest posts by Ryan Schultz (see all)